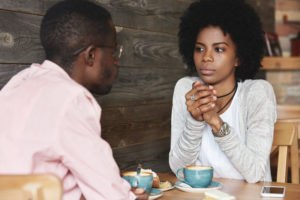 If you find yourself in a tough situation where you are questioning your relationship with your spouse, it may be time to seek our marriage counseling. Although you may be prepared to take the plunge, it may be difficult for your spouse to understand. It is important that both of you are able and willing to start the marriage counseling process to save your relationship and bring you back to where you belong. Here are some ways to bring your spouse on board with you.
State Your Case
It is crucial to communicate with your spouse, especially now. Grab some time together to sit down and talk about both of your needs.  You can start the conversation by stating that you have some concerns about your relationship. You should remind your spouse that you are invested in your relationship enough to seek out help in whatever areas you are lacking. Explain why you think marriage counseling will help you both and how you feel it is needed to secure your marriage.
Get Them in On the Process
Although you may both agree, your spouse may be hesitant. Give them the chance to help during the process to feel as if they are a part of it. Ask them their thoughts when interviewing a potential counselor. Ask what needs they have for the counselor and what their specific concerns are. Allow them to call the shots when it comes to scheduling time for counseling. It should be a team effort to make important decisions regarding time within your marriage counseling. Give them the chance to make phone calls and schedule appointments. A little bit of responsibility goes a long way towards acceptance.
Allow Them to Think About It
It can be difficult to be patient when your spouse is trying to make a decision about your relationship. However, some people do not handle the thought of needing help very well. Give your spouse time to think about the decision before you jump to conclusions. Accept their needs and give them space. Those who feel the decision must be made immediately often feel trapped and unable to give a clear opinion. This can cause unnecessary hurt and miscommunication.
If you need marriage counseling in Plano, TX, Insight Child & Family Counseling is here to help. Give us a call today at 972-426-9500 to get started with confidentiality and a superb experience. You can also visit us online at www.j9n.83e.myftpupload.com for more information about our practice and counselors.