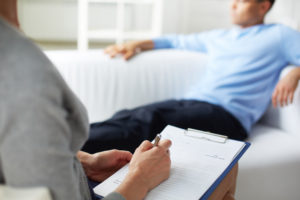 Perhaps you are researching depression counseling for yourself or a loved one. Maybe you are scheduled for a counseling session and feel a bit apprehensive. Whatever the case, you should be aware of what to expect before the first appointment.
Depression counseling is offered in many different forms by many different types of counselors. Although the situations may differ, all depression counseling is similar in that it works to create a space for you to heal and become open about your depression.
Depression Counseling: Your First Session
Your first session with your counselor will involve you and your therapist getting to know one another. Your therapist may ask questions about your current life, your habits and simple questions about things you enjoy. You will discuss your symptoms, as well as anything you have tried before such as medication and other therapy.
You should prepare by bringing a list of your current medications and perhaps a log of your feelings throughout a few days or weeks. This will help your therapist understand your background and your medical history. It is also wise to discuss any diagnoses you have been given that may involve your depression.
Your therapist will ask a lot of questions. Be prepared to spend an hour or so answering questions that your therapist feels are important to your case. It is best to remain open and relaxed and really make the most of this experience. It can be a bit trying.  However patience is the key.
After you are acquainted, your therapist will discuss treatment options to start with. He or she will discuss each option and answer any questions you may have. Be sure to ask questions so that your concerns can be met head on. Your therapist should be able to make you feel at home.  Finding the right therapist can sometimes be like finding the right shoe.  Not everyone is a good fit or even your style.  You may have to try out a few to find the one that is right for you and your situation.
Depression counseling includes many different methods such as cognitive behavioral therapy or talk therapy to get the best results. Your therapist will decide which treatment options are best for you and your situation and will discuss the course of action they'll take with each therapy.
If you feel you are not as prepared as you wish to be, feel free to check with your counselor's office to see what you can do to be more prepared to ease your mind.
At Insight Child & Family Counseling, we believe in depression counseling that is honest and fits your specific needs.  Give us a call at 972-426-9500 to get started today or visit us online to learn more about our approach and experience.  j9n.83e.myftpupload.com