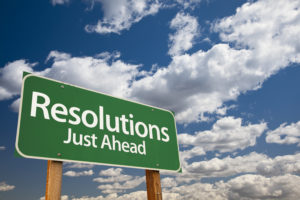 The New Year is coming and as a depression counselor, I can tell you that many of my patients who are battling chronic depression have a hard time celebrating a new year as a time of resolutions, starting over and celebration.  Instead, they dwell on the past year and any wasted opportunities, failed relationships, deaths in the family and more that they feel will only continue into a new year.  
Because I have worked as a depression counselor for many years, I know that people who suffer with depression can't just "get over it" and feel happy about the beginning of a brand new year; their depression is a disease that they must work around on a daily basis to function.  But I also know that, with some effort, it is possible for patients with depression to begin the New Year with resolutions that will make a difference in their lives.
If you suffer from depression, here are some resolutions to make that may give you some relief from your symptoms:
✦ Try A Little Impulsivity
If you've never done anything impulsive in the past because you feared it would turn out badly, resolve to do at least one impulsive thing in the New Year.  If you have a few extra dollars in your pocket, go into a store and buy something you would never have thought of buying before, call in sick to work even if you're feeling fine or head to a movie theater and pick a movie at random to see.  You don't have to spend a lot of money to be impulsive; your goal is to feel happy, not guilty.
✦ Be More Spontaneous
If careful planning is something you depend on to help you anticipate life's bumps, try a little spontaneity.  Take an unplanned weekend trip to the beach or pick up your phone and call someone you haven't spoken to in years.  Take a different route home from work or explore a nearby small town.  Make a list of things you've always wanted to do and every once in awhile, pick one and just do it.
✦ Get In Touch With Your Inner Child
If you have happy childhood memories, tap into them to give yourself some New Year's joy.  Rake your leaves and then jump into the middle of the pile.  Make a snowman or climb a tree.  Buy a coloring book or a Slinky or some Silly Putty.  Find DVDs of TV shows from your childhood and have a weekend TV-watching marathon.  
✦ Stimulate Your Senses
Stimulate your senses in the New Year.  Sounds like ocean waves, crickets chirping or your favorite music can relax and comfort you.  Familiar smells, like the smell of baking cookies, fresh flowers or a crackling fireplace can trigger happy thoughts or memories.  Taste something familiar and something new and exotic.  Hold someone's hand.  Touching releases oxytocin, which is often called the "cuddle hormone."
Caring for yourself when you have been diagnosed with depression can be difficult no matter which New Year's resolutions you make.  When you need help, call me, Jody VanDrimmelen, at Insight Child & Family Counseling at (972) 426-9500.  You can also visit www.j9n.83e.myftpupload.com to find out more about what a depression counselor can do for you.