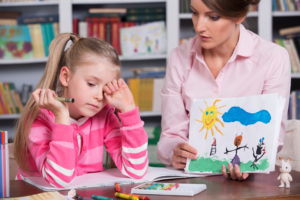 You may have a child that is in need of a child counselor in Plano, TX. And while you are on board with the idea, you may be wondering what a counseling session for your child will involve, what your child will be asked to do and what tools your counselor uses each session.
You don't have to worry. Child counseling involves many different techniques that your child counselor will use to build trust with your child. The more you know before your child goes in for the first session, the better prepared you will be.
Child Counselor Methods
There are many different methods your child's counselor may use. It all depends on your child's behavior, the process and what your child is seeing their counselor for.
Art Therapy
Art therapy involves allowing the child free time to doodle, draw, paint or use other media. The counselor allows the child to use his or her imagination to feel free to speak on paper. This outlet allows the child to interpret his or her feelings without feeling pressure to explain it. Often, the child doesn't know they are showing their innermost feelings. The counselor can look for themes in the art and speak to the child about what they have expressed. This gives them a look into the child's emotions and mind.
Talk Therapy
This may seem like the traditional form of therapy. However, talk therapy is an in-depth approach for children who have experienced traumatic events. Talk therapy allows the child to speak about a traumatic event by explaining it again. The child tells the story from his or her point of view, and the counselor watches how the child reacts. The counselor then works with the child on his or her emotions towards the event. This helps the counselor understand the child and his or her needs as they put together a plan of action.
Unique Games
If you have a child that is dealing with stress or anxiety, games can be a perfect outlet.  Some of these games involve fun activities such as bubble blowing, which helps with breathing and board games, which helps with strategy and problem-solving. Children who are in counseling for ADHD benefit from memory games that help with attention span.
Sometimes it can be difficult to come to grips with the idea of your child needing help from a professional child counselor.  However, when you enlist the help of licensed counselors, you are giving your child the best shot at success.  Your child will learn problem-solving strategies and build trust in order to become comfortable with their current situation. Call Insight Child & Family Counseling today at 972-426-9500 or visit us online at www.j9n.83e.myftpupload.com to see what child counseling services we provide.